Maurizio Sarri's Story; from a banker to Europa League Champions !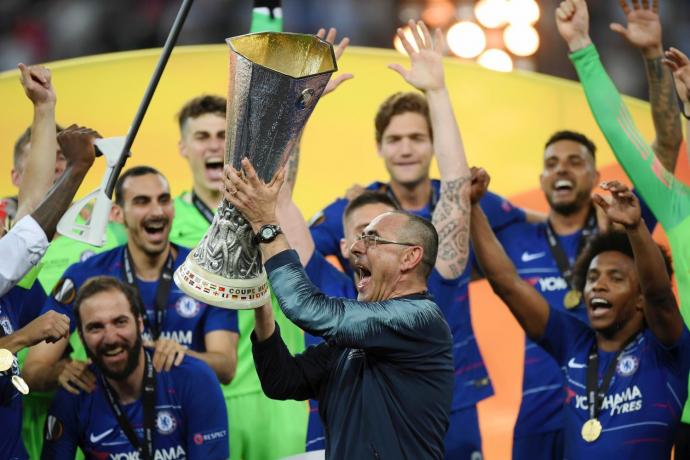 Chelsea defeated Arsenal 4-1 on Wednesday to register their first and the only trophy of the season. Nevertheless, it the the first ever major trophy for Chelsea boss Maurizio Sarri in 20-years long career. Previously, he had won the Coppa Italia Serie D in 2002-03 season. But his story had started from further lower division.
Sarri was, once a merchant banker. Playing football and coaching was his part-time amateur thing for him. He had also played from the clubs in lower division of Italia. He used to play as center-back. He started his career from Stia, an eighth division club of Italy in 1990, where he became the player-coach of the club. He has been always dreaming of managing the bigger teams. Therefore, he kept on moving from one club to another.
At the age of 40s, Sarri finally threw away his calculator and fund management to pursue his ultimate dream. After Stia, he joined Sansovino and helped them to earn promotion to Serie D. Time went on and he kept on changing the clubs. He signed with Sangiovannese and lead to Serie C1 in his first season. At the time, he had already established himself as a professional manager, having already quit  his banker job.
During 2005 and 2012, Sarri stuck between Serie B and Serie C before settling with Empoli in 2015. In his first stint, the club finished fourth while in the following, Empoli was promoted to Serie A after six years. Therefore, he was then hired by the Italian giant Napoli. As soon as he joined Napoli, he introduced new and attractive style of play in Europe. Sarri was just four points away from winning his first ever trophy in his managerial career. However, it was still incomplete as Juventus won the league.
After his career at Italy, finallu he moved to England, where he replaced Antonio Conte at Stamford Bridge. He started very well in the league. Chelsea reached final in Carbao Cup, but lost to Manchester City, to further wait for Sarri's first trophy. His playing style is quoted as boring style of play by some fans whereas, some of them were seeking his sacking. However, he ignored all the critics and stuck with his plans. Chelsea finished third in the Premier League. And finally, Sarri got his first silverware of his career as Chelsea defeated Arsenal 4-1 in the Europa League final at Baku.
Sarri was seemed with beautiful smile, looking at his first ever medal of Europa League.