"It take Courage to hold the whistle on the Pitch" – ANFA Referee Harish Karki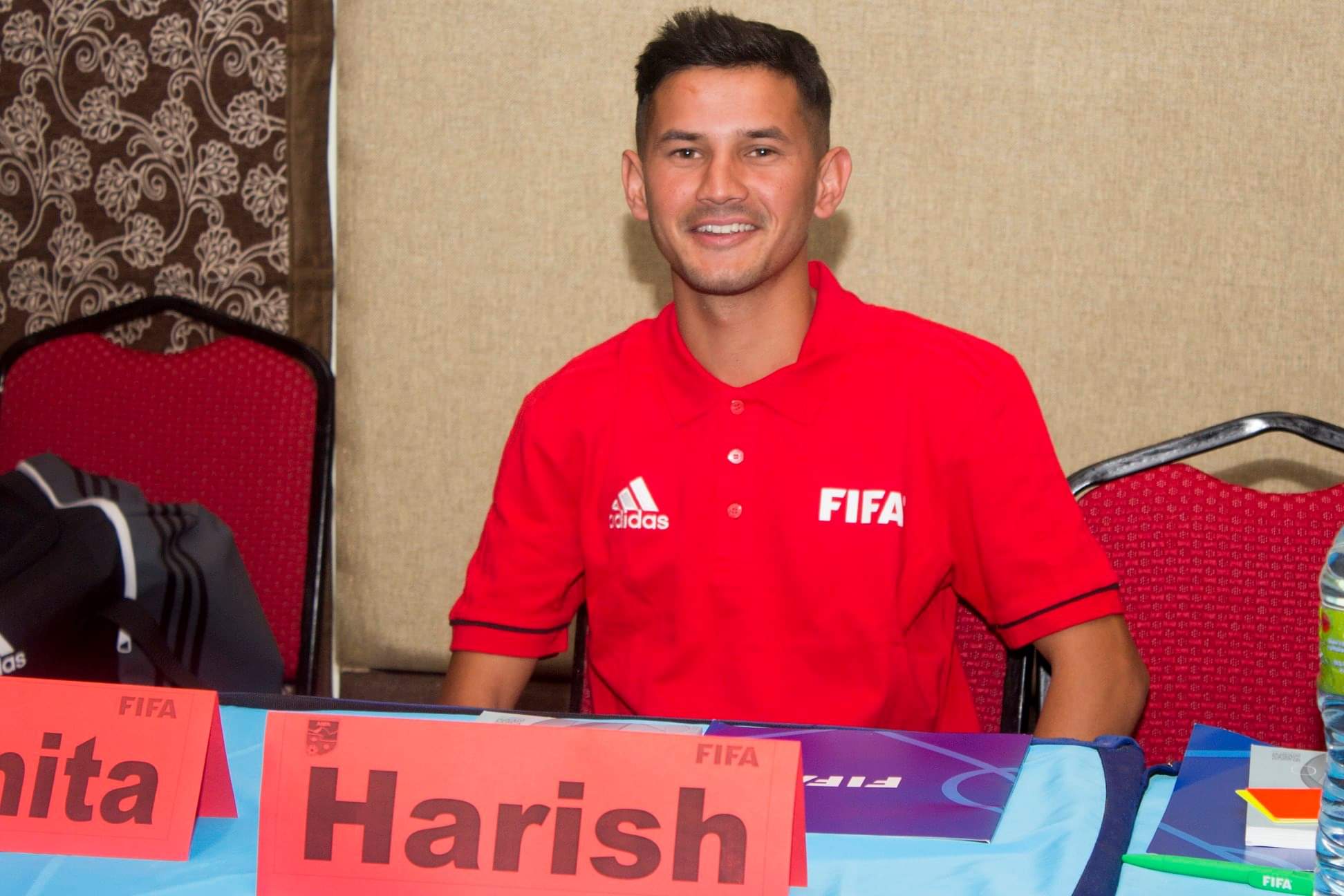 The craze of football across the world has its own history and future. The passion of football has no any age limits. The love of football has no any boundaries. The whole world shouts and sings when it comes of their football team and their football player, whether that is domestic or International, whether that is being played in the stadium with no seats in the parapet or that is being played thousand miles away.
Football has been such a game with beauty and its not always the players in the pitch to make it beautiful. There is always vital role being played by the referee and the officials so that  90 minutes in the pitch is cheered and played, adorned with every colours of the game and avoided with any ugliness that might doubt on its beauty. They regulate the match with disciplines, rules and regulations, fair play and impartiality between the teams. It seems easy but one has move heaven and the earth to ensure it.
If there is any least glamorous position in the pitch then it would be unwise for any football fan to say a defensive midfielder or the goal keeper or any other positions the position of the referee. The referee is in such a thankless position in the football yet has the major role. This is one of the many reasons why refereeing has been with even more challenges. They're an easy target when it comes to attracting the ire of the coaches, players and thousands of fans. Though it is still an honour to own the whistle and courage to hold that whistle in the pitch.
Here we have spoken to one of Nepal's brightest talents, referee Harish Karki, with the love and passion for football from the position of refereeing. Harish Karki has been active in refereeing since the age of 18 years old, quite amazing to know some with the passion for it since such a young age. Let's go through the conversation we had with him about his journey and challenges in refereeing:
1. Now you have come along far in the journey of refereeing and has strode yourself as one of the brightest referee in Nepal. How did you start your journey as the referee?
Harish Karki : I was about the age of 18 when my journey started. In the year 2072 I applied for the course of referee on the insistence of my friends and brothers, especially my Senior Sir Dawa Kunga Lama. I had been officiating some local matches in my hometown Pepsicola then. I had not such specific idea about the course of referee and I was even happy to be busy with what I love. Once I joined the course it was even more exciting and I was deliberately looking forward to strive as best as I could.
During the course I was even more active and passionate to learn compared to others who were mainly between of late 20s and early 40s. I was young and I was energetic. On the verge of joining the course, I left my higher school level study. I was involved in various of tests that included theory, fitness and practical. After the completion of it, I became "ANFA Referee" which eventually widen the horizon the world of refereeing for me that included grassroots games, friendlies, school and colleges tournaments, District level matches and C categories matches.
2. You became ANFA referee at such young age of 18.  Then what was next for you to look forward and how did it go for you?
Harish Karki: The referee's department within the All Nepal Football Association assign the matches to the individuals. Back then it was via phone calls and check the availability. Since I had quite enough free time during my High School during the day time after my class, I used to officiate the district level tournament matches, school and Division C qualifiers  and I was determined to grab any opportunity there was for me. I started as an assistant referee (linesman) and I was involved more and more in ANFA affiliated Division and District games. To broaden my career as referee I started taking role of main referee in the local matches, school and college tournaments.
3.What kind of challenges did you have in the beginning of your days as referee?
Harish Karki: It's never easy to hold the responsibility of referee, especially when you are that young. Some A level friendly matches, Local and College I officiated used to involve National and Experienced Players. Seeing a young lad with the whistle, they used to try to intimidate me in various occasions. In my very first match I had to sent off two players showing the red card that was A level friendly match and support from the officials was vital which was assessed to me by another referee. In many occasions especially in the local matches, we are usually treated harshly from the spectators using inappropriate words and nasty behaviours which had even make me doubt about the decision of me being referee. But I realised that these are the dark side and should be able to cope with these situations if I was to stay firm and confident with my whistle.
I remember the days when I am surrounded by the players in the pitch and I was determined to stay with confidence over the right decision I made. Coaches yells, the players argue and the spectators chants with the harsh words for the referee. These things had been much stressful to handle and I realised it is even more for the young referee. Some experienced including ex national players and the coaches, I feel grows the habit of being able to affect the decisions and change the track of the game and these things have made me even stronger and powerful. This is what makes you better!
4. Being a referee means to cope with the stress and pressure from different factors. Are the referees provided with the enough support to cope with them?
Harish Karki: Back then, there wasn't much. Before, the gap between an entry level ANFA referee and a FIFA qualified referee was huge (there are National and A Level referees in between). Meeting the top FIFA referees was seldom. These days a bit improvement has been made. To be in the side with Ex FIFA and FIFA referees makes it a lot easier and even provided with the opportunity to improve and learn even better. And you would get more better chances to improve and learn about your Games the way you officiated.
But I'm glad to have have Internet to learn and Develop myself through some Learning Tools and Devices, used to surf more about Refereeing and watches the Incident Video Clips and Study them. Today, there's more open communication between all the referees and the referee department. One can get the link to any of the Higher Referees nowadays but still we are not able to improve ourselves a lot with the  Knowledge and Experience Sharing.This is the sad Truth right now.
5. What makes a good referee?
Harish Karki: You'll need a good understanding of the game and cope with the pace of today's game which is really fast. As a National level referee, it's also about consistency. One week, I'm officiating a local game, the next, Domestic Division Club, Gold Cups with Big Division and Club tournaments. You have to be as good in every game. The mentality is important and you should never take a game for granted. On and off the field, a referee needs to show strength in his/her body language. Communication is also important – with coaches, players and your team members too. And of course, fitness. To have a good judgement of the game and fitness is not easy. I think, in Nepal, we need to groom our referees to be good in both traits.
The mentality is important and you should never take a game for granted. -Referee Harish Karki
6. Are all referees working full time?
Harish Karki: In Nepal, we are still not in the position where we can pursue the career only as referee. This leads most of us to be engaged in part time for it. We have different jobs and we have to separate the time for it.  We're not like the professional players where we go for a full day of training with a fitness coach etc. Referees have coaches too but they're all engaged by the All Nepal Football Association. These are former referees with international accreditation and are now assessing fitness and technical ability.
For me, I'm working at School as Sports Teacher recent Days and I do also look after my Father's Hotels, Resturants and Resort Business and have been in it for last 2 years. I am also Engaged on my Studies, studying BSW at Vinayak Siddha College. I still have to work apart from refereeing having commitments at home too. I had to take leave at my work places and Colleges to referee Outside Valley games and tournaments and these things often leads to the chaos of time management.
7. Tell us about some of your proudest moments as a referee
Harish Karki: It is not that long journey of mine as referee but in this short period too I am thrilled and its a proud moment when I really feel the achievements I have got from it. It has been such a good feeling to officiate on Red Bull C Division Qualifiers especially when I am such young age. The beliefs shown to me is obviously another factor to enjoy refereeing and in some corner of heart I feel proud to officiate some very important matches that included several finals of the tournaments.
I have officiate Cocacola Kwiks Gold Cup Finals,AMA events Redbull Futsal Leauge with HIgh Cashprizes & REDBULL National Leauge. After being National Referee at the Age of 22 within a year I have officiated Including FIFA MA ELITE COURSE, Provience Chief Minister League, LalitMemorial U18 A Division,Martys Memorial C and B Division, 8th Natitonal Games and every time I step inside the pitch with the uniform of referee I feel proud. To be known as referee Harish Karki itself adds more energy and confidence to do better.
8. How did you balance your full time work and being involved in such many events ?
Harish Karki: It is mostly tough to manage my working time and time for refereeing. There is several late night work mails and appointment calls leading to even more tight schedules during the tournaments.I have match debriefings , practical, training, exercises during and after games and classroom sessions too. I have to prepare even better too so I have to go through different AFC and FIFA Video AFC and FIFA Video Clips, LOTG too.
9. What's training like?
Harish Karki: Especially during these Division tournaments, they're tough and competitive. The standards are very high.During mine Personal Trainings i have some of mine FIFA Refereeing Brothers and some Instructors i follow them on my off or Rest days. My seniors and Mentors provides me Feedback on how i have to work signal or decide on mine Decisions with instructions to simulate incidents.As i have mentioned before i study and look after LOTG, Video Clips and AFC Considerations too. I have instant video feedback as well provided by FA that cover topics like offside, teamwork between the referees and the assistants etc.from mine Previous Match Clips.
10. Do you have any messages for players out there regarding refereeing and for upcoming Referees?
Harish Karki: To young kids who love to play football, many of us want to be involved in football but we're not sure the avenues to do so. Many want to represent the country in the team but there could only be 23 players in a team. Most of the Active and Retired Referees has come to Refereeing after suffering Injuries or just after Retiring as a Player and i don't think this is a Good Choice.
As much as you are young you have to try and Compete with Seniors so that you can collect a lot of Match Experience and learn much more in Learning age which later leads to Biggest Achievement on Refereeing. Refereeing is a great way for you to be involved in football (locally and internationally). It takes courage to hold the whistle on the pitch. Come to a refereeing course which FA'S run quarterly. Be a referee and you'll see that there's a lot to learn besides just playing football.
11. What are you Ambitions and Goals after the Refereeing Career?
Harish Karki: Refereeing and Football has already been in my blood so I will try to Work as Referee Assessor or Match Commissioner. I will for sure run some other Business for the main Income factor as Side hustle. I will try to develop Nepali Football and Refereeing to mine Fullest somehow try to change things for better for Future with all my Experience and Knowledge. As we can see there are many different places,ways and ideas to become a Professional Footballer but there´s no any source except ANFA to train and become a Professional Referee.
I will try to start Refereeing Academy for the better Future of Nepali Football and Referees to compete in international level.In my View Grassroot Referee is the best way to bring Qualified Referees more than Quantity and i hope that i have an ability to work on that too. We can witness the Senario of Nepali Referees with the increase in Young Referees giving some of the Results too. Within the few years,we can see a lot of new Referees who are going to be very busy in the Matches. With more tournaments, Hype and Demand of Referees shall also be grown in a rapid way. Hope we can see some of them take Nepali referees to next level. Who knows, some Nepali referee may be officiating the FIFA World Cup match in the future.
This was a conversation with ANFA referee Harish Karki who has achieved a lot within a short period being a referee with many achievements. When the young boys and girls are developing the passion to play football, his passion for refereeing to make football a beautiful game will obviously encourage and he can be source of inspiration for the younger generation who has the love for refereeing but doubts on the consequences. Harish Karki himself hopes for the good future of Nepali referees and urges to younger generation to go for it.
A very thanks to  referee Harish Karki.